Illustration work can be very solitary and after spending 10 hours a day alone drawing and painting it is easy to crave a little creative collaboration. Lucky for me, I'm apart of an infant design company, The State of Shapes. We are creative collective made up of five people: • Myself - Illustration & Design • Ryan Considine - Design & User Experience • Dalton Campbell - Photography & Marketing • Jordan Fuller - Videography & Photography • Michael Roberts - Web Development
Together we make websites, logos, album art, posters, business cards, invitations, videos, and more. We are working on our own site right now, but if you'd like to see a little of what we've done take a peek at Home Stager Trulie Young's website as well as Audio Engineer Jarett Bostick's website.
We've been a group since May and have been learning a lot about the business of design. I graduated in May 2011 and I can't believe how much I've learned since then about working with clients and treating my freelance work as a business. I'm amazed of how little about the business side of things I was taught in my undergrad.
Anyway, we've recently finished up designing an album and website to go along with it for David Booth, a singer/songwriter from Texas. I illustrated the front and the back of the album and Ryan designed the type for the album art as well as the website. Give a listen to Booth's wonderful music on iTunes.
Final product: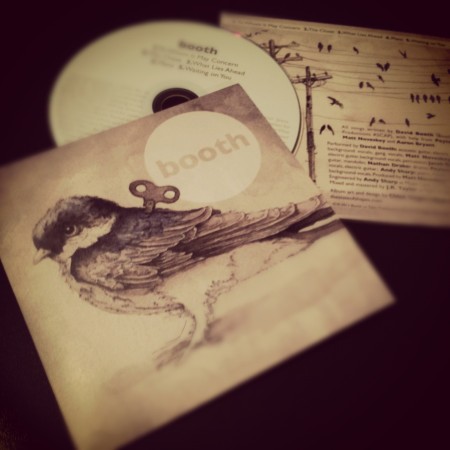 Original front and back illustrations for the album art:
And check this out! David Booth's album is being featured this week on the front page of the singer/songwriter section in iTunes: