SXSW is known mainly for the music it brings to Austin, but the film and interactive portions of the festival have been growing in popularity. This year brought two bodies of work from artists that I admire. Domy, a quirky book store and gallery, is exhibiting a collection of work by Wayne White. This show is apart of the world premiere of Beauty is Embarrassing, a documentary about the works and life of Wayne White. His most recent works are paintings of large type integrated onto already made reproductions of landscapes, you know, the kind you might stumble upon an a garage sale. I had the pleasure of hearing him speak at the Illustration Conference in 2010. He is a whimsical sort of guy with a great story to tell. His goal with is work, as he said, is to bring humor to art. His paintings will remain up at Domy until April 19th and I definitely recommend seeing them in person!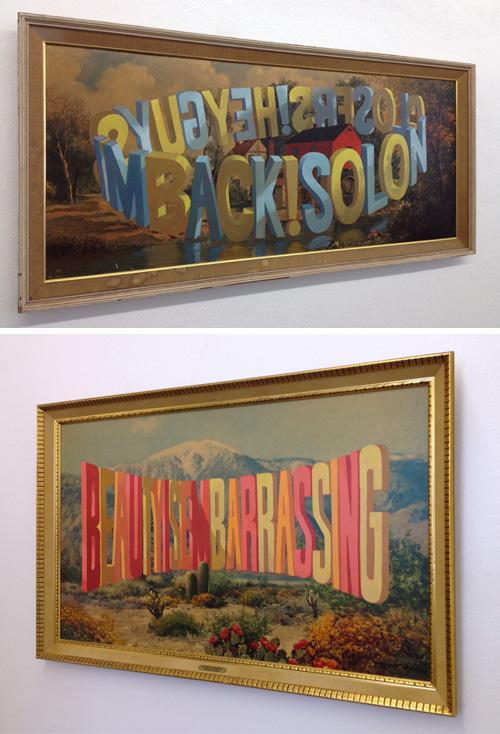 A couple months ago I stumbled upon this etsy shop and quickly fell in love with the playful paintings of Jennifer Davis. She is an artist from Minneapolis with great taste for patterns, textures, desaturated color palettes with bursts of brilliant colors, and quirky subjects.
Her work is up at Grayduck Gallery until April 1st. Another amazing artist whose work is well worth experiencing in person.